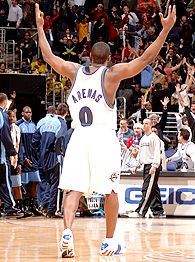 Gilbert Arenas continues to further cement his position as the coolest motherfucker to ever
graduate
attend the University of Arizona. His
blogging
as of late has been utterly ridiculous, I'd highly recommend reading the whole thing but here are my highlights.
His Aug. 1 post:
I know this is random, but I just want to clear this up for people out there.
There are these things called shark attacks, but there is no such thing as a shark attack. I have never seen a real shark attack.
I know you're making a weird face as you're reading this. OK people, a shark attack is not what we see on TV and what people portray it as.
We're humans. We live on land.
Sharks live in water.
So if you're swimming in the water and a shark bites you, that's called trespassing. That is called trespassing. That is not a shark attack.
A shark attack is if you're chilling at home, sitting on your couch, and a shark comes in and bites you; now that's a shark attack. Now, if you're chilling in the water, that is called invasion of space. So I have never heard of a shark attack.
When I see on the news where it's like, "There have been 10 shark attacks," I'm like, "Hey, for real?! They're just running around? Sharks are walking now, huh! We live on the land, we don't live underwater."
After catching a little e-flak, he responded with this literary gem on Aug. 3:

Yeah, you've all been talking about it. I used someone else's joke. What's the big deal? I thought it was funny, I blogged it, you all laughed.
Mission accomplished.
Listen, nobody even heard of Ian Edwards before me. He's no Chris Rock. I helped him become famous. Now everybody is going to YouTube and looking him up.
The joke was worth about $7 when I heard it, now that I've used it's probably worth a little bit more. I'll sell it back to him for $7.78. Seventy-eight cents, Ian, you can put that in a royalties check made out to me.
Puffy and Ashanti made careers out of stealing other people's beats. This is
America, the land of the reused.
If you think about it, nothing is original. Every joke has been retold at some point. What I did was recycle a new joke instead of waiting for it to get old. It was too funny not too. I mean, at least I picked a good joke, right? It's not like it was some lame, "Yo momma" joke.
Let's not forget, "Hibachi" was stolen too. Brendan Haywood used to say it before me. But I recognize good stuff and make it popular. Now "Hibachi" is patented by Agent Zero, son.
I'm not a thief, I just reused it. Know who is a thief? The guy that is trying to sell the domain name of GilbertArenas.com to me. It's my name! I have to buy it back from him. Now that's stealing, borrowing, whatever you want to call it.
I mean they were even talking about it on PTI. Patrick McEnroe was saying I should quit making jokes about sharks and worry about rehabbing. Patrick, you're right, I should be focusing on my knee. I guess taking 15 minutes to tell a joke doesn't leave 23 hours and 45 minutes the rest of the day to be working on my knee.
I didn't want to post the entire blog here, but Gil has left me speechless. I would say trying to follow his blog is impossible, but
impossible is nothing
.